Language One has obtained the certification of ISMS (Information Security Management System)
2017/3/8
Language One Corporation adheres to the laws and regulations governing the information assets including personal information, and is contributing to create a social environment that can enjoy the benefits of IT.
On February 26th, 2017, we have obtained the certification of International Standard "ISO/IEC27001" under ISMS (Information Security Management System).
In obtaining this certification, a third party certification/registration body has certified that we maintain an appropriate management system for information security.
We will continue to maintain and improve our information security management to obtain an even greater level of customer trust and satisfaction.
Language One Corporation
President Taku Koyama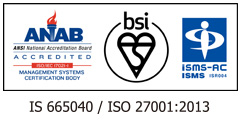 Scope of Certification/Registration : Operation of Multilingual Contact Center
Statement of Applicability January 17th, 2017 Second edition
Registration Date : February 26th, 2017
Certification/Registration Body :
BSI Group Japan K.K.
Language One Corporation provides support in 13 languages 24-hours 365-days through the Multilingual Call Center, providing e-mail translation and other useful services as well. We ask representatives from companies and government agencies to contact us through our Inquiry Form to solve any communication problems with foreign customers. [For inquiries related to this release] Language One Corporation Sasazuka Center Bldg. 5F, 2-1-6 Sasazuka, Shibuya-ku Tokyo 151-0073 Inquiry Form:
https://www.languageone.qac.jp/contact-en/